Twisted Hunt is once again lurking in the shadows, ready to pounce in September, and eat Second Life hunters for breakfast.  If you aren't familiar with the Twisted Hunt, it's a semi-annual grid-wide hunt in Second Life.  Second Life's culture is such that hunts are kind of falling by the wayside, and most people would prefer not to take landmark after landmark, and stand around waiting for things to rez in various lagged sims so they can find some object that contains a free or dollarbie gift.  However, Twisted is one of those perennial Love It Or Hate It deals that crops up twice a year, in September and March.
While most other hunts are floundering and giving up the ghost, Twisted persists in its popularity because the merchants involved go the extra mile.  The gifts can be exceedingly difficult to find, due to reasons, but you will find all kinds of extra fun and goodies in most of the stores involved.  For example, some stores will have mini-hunts, some build fun labyrinths, some will have zombie killings, others provide extra fun by setting up games for hunters, and quite a lot of merchants will have more than one gift.  In fact, many will include a fun gift inside each of the ten visible decoys they're allowed. Decoys.  Yes, we are fully aware that people cannot stand the things.  In fact, we don't really like them much either because some people have gone completely overboard in inflicting them upon the huddled and frustrated masses.
The thing is, we do have rules, and even with the 30 meter global limit to where you can hide things and with the visible decoy limit, the hunt object can be…shall we say…a challenge to discover.  Merchants are allowed to hide INVISIBLE decoys under the floors and in the walls.  They are also allowed to rename random prims to that of the hunt object. The hunt object will always be a puzzle box cube (with new patterns this time!!), it will always be spinning, it will always be called something specific, and yes, it is fairly small.  But it shouldn't be inside another prim, or recolored, or renamed.  Woe betide those who violate these sacrosanct rules!
Here's the little critter you're looking for in all its horrible glory: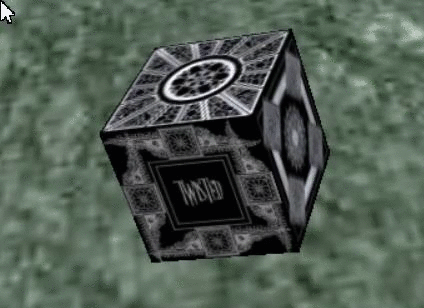 Meanwhile, Avatar Bizarre (owned by one of the organizers) has a sneak preview of the male and female gift being handed out to the legions of hunters out there.

The Qing Long Hanfu is a rigged mesh traditional Chinese outfit.  It includes all five sizes, is materials enhanced, and comes with a flexi sash, in addition to the mesh sash.  Avatar Bizarre is giving away (for free!) a teal Hanfu for both men and women this round.

The hunt begins at Midnight on September 19.  Happy Hunting!  (Shoes not included)